Clearing out the contents of an entire building is no easy feat, especially if you're in the middle of foreclosure proceedings or up against a tight deadline. So when you need to clean out a property in the Independence area, and you need it done in a hurry, bring in the professional trash haulers from Residential Dumpster Service. Specializing in property cleanouts for both homes and businesses, we're just the team you need for an undertaking this big. We have six years of on-the-job experience at our disposal, and we're ready to use that firsthand knowledge of cleanouts to your advantage. Call now to schedule your next-day property clean up!
At Residential Dumpster Service, we understand the sensitive nature of many real estate cleanouts. Whether you're a family member dealing with an estate or a representative involved in a resale, we'll work hard to expedite the difficult trash removal process and make it as painless as possible to get your property clean. Our cleanout prices are highly competitive, and we can dispose of all kinds of household and business-related items, including:
Discarded personal belongings
Unwanted furniture and appliances
Everyday rubbish and trash
Post-construction materials
Bagged yard waste and tree limbs
Concrete, bricks, and dirt (cannot be mixed with other materials in dumpster)
Cast-off tools and office equipment
Outdated papers and documents
And much more!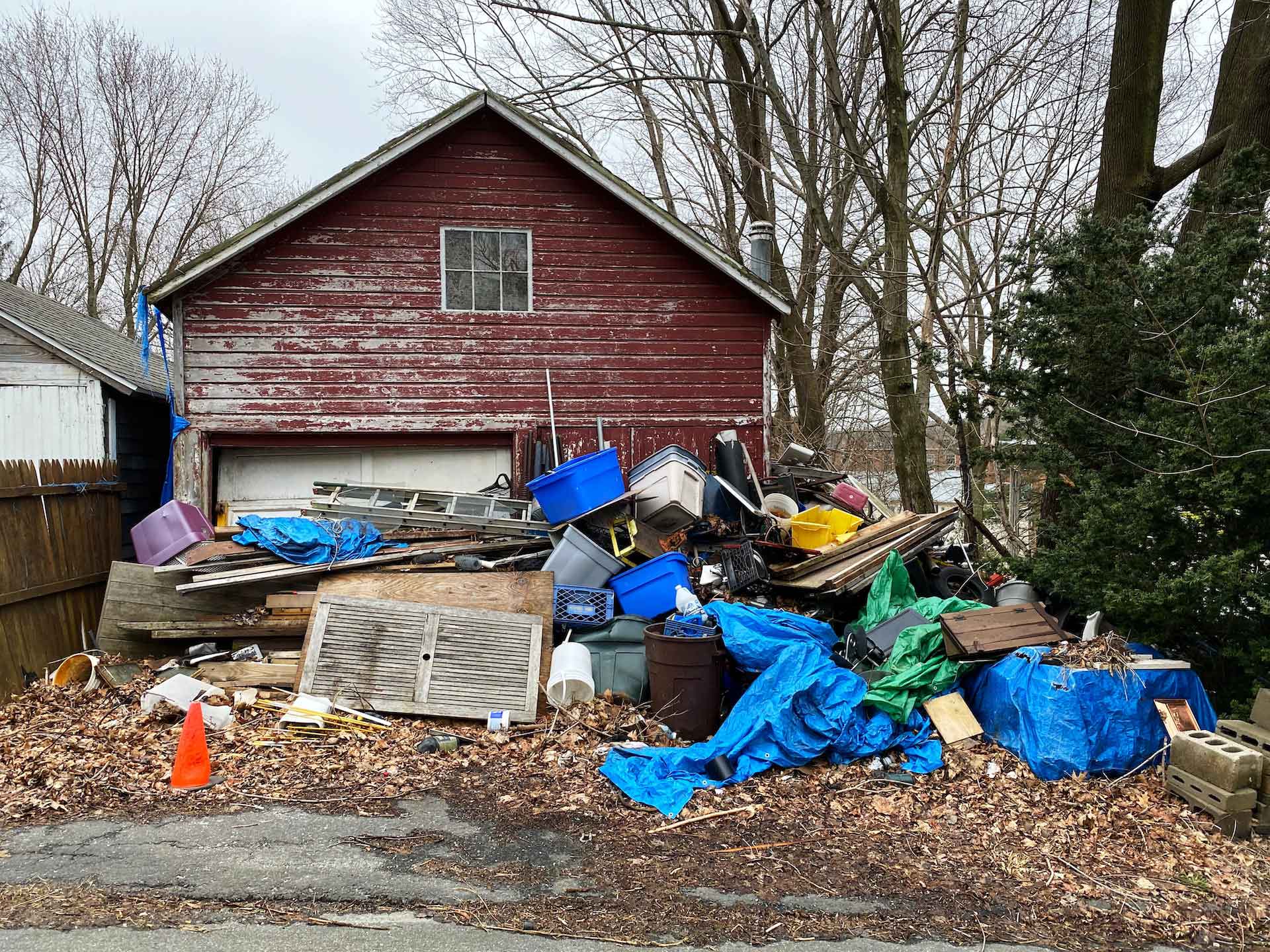 Residential Dumpster Service has more than 30 roll-off dumpster rentals available to assist with your property clean out, in sizes from 15 to 25 yards. We can drop off a dumpster rental at your location for a low weekly rate, or you can let our efficient and experienced trash haulers attend to the property clean up for you. Either way, you'll have the capacity to clear away tons of residential and commercial building contents without ever having to make a single trip to the landfill. Then, once all of the materials have been removed, we'll even top off your property cleanout with a final sweep of our broom.
When it's a matter of a foreclosure cleanout, it's in everyone's best interest to get the vacant property clean and restore the building for occupancy ASAP. You can depend on Residential Dumpster Service to come through for even your largest foreclosure cleanouts with flexible scheduling, swift trash removal, and some of the lowest rates on either side of the state line. If you need a foreclosure or other type of real estate clean out, contact us today by phone or e-mail for your free estimate.
With Residential Dumpster Service, trash removal is one aspect of foreclosure cleanouts you'll never have to worry about. Call on our team today!   
At this time, Residential Dumpster Service does not accept tires, hazardous materials, paint, or oil. Some restrictions apply for concrete, dirt and brick removal. We regret any inconvenience this may cause.